Rugged workstations by Trenton Systems excel at powering automated testing equipment (ATE) for defense community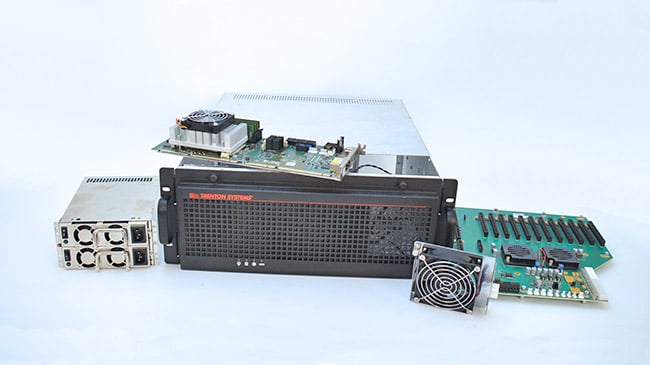 Photo: A Trenton Systems 5U Rugged Workstation[1] chassis, TKL8255 processor board, backplane and other components
Lawrenceville, Georgia, August 4, 2020 – Trenton Systems, a manufacturer of rugged servers[2], workstations[3], blade servers[4], storage systems[5], mini PCs[6], processor boards[7] and PCIe backplanes[8], excels at designing rugged workstations that power automated testing equipment (ATE) used by major defense and prime contractors across the nation.

Trenton Systems' made-in-USA rugged workstations[9] are a tried-and-true choice for ATE systems and ATE software. These hardened, high-performance workstations, available in 1U, 2U, 4U and 5U configurations and sporting up to 18 PCIe slots, power ATE systems for industries and applications[10] that utilize a variety of different test instruments daily, including those assessing the effectiveness of military weapons systems, communications systems, radar systems, electronic warfare systems and more.
"Our products are being used in support of a high mix of aerospace products, ranging from computer-controlled fuel sensing systems, electronic braking systems, actuation/controller missile systems, and HUMS," said Sean Campbell, Vice President of Sales, Marketing, and Business Development at Trenton Systems. "Major prime contractors rely on Trenton's hardware to support development of electrical, mechanical and software specifications to test end items. These designs must be traceable to their end customers and system specifications, thus making our hardware essential in support of the manufacturing/operations group to help ensure on-time delivery of products. We become an essential part of their ecosystem in the delivery of finished products, ensuring our products will perform as specified to meet customer and system requirements."
Automated test and measurement systems are an essential part of assessing the reliability and functionality of electronic components, devices and systems. Not only can they diagnose faults and verify that certain electronic components are working properly, they can also cut manufacturing costs significantly by reducing test time.